Purchasing & RFP Support
Wikipedia: In the United States, a Group Purchasing Organization (or GPO) is an entity that is created to leverage the purchasing power of a group of businesses to obtain discounts from vendors based on the collective buying power of the GPO members.
Food and Supply purchases comprise a significant portion of your facility's expenditures on a weekly basis. Evaluating your purchasing program to maximize every food dollar is not just good business; it can be eye-opening.
Although this seems like a straight forward price comparison process, in reality a sound business decision is more involved. Selecting a GPO and, if appropriate, transferring purchases to a different program can be confusing and, if not handled well, cost you money.
dk foodservice Solutions, LLC has developed a comprehensive RFP program for an unbiased decision making process. The program includes the following components so each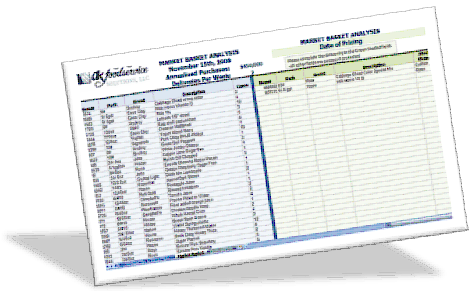 distributor can present their best proposal:
A comparative Market Basket

Top 100 items by sales volume
Based on current purchases
Totals extended to reflect volumes

Distributor Profile Questionnaire

An opportunity to showcase added services

Warehouse Tour
Blind Sample Cutting
Letters of Reference from like-sized facilities
Formal Vendor Presentation
Please contact us for information on how to address your Food Purchasing Program.